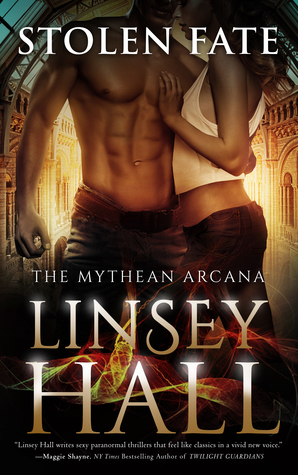 by Linsey Hall
# OF STARS  4/5                    Genre: paranormal                  Pages: 135
Overview:
Fiona Blackwood is losing her mind
Fiona is an Acquirer, an immortal who uses magic to hunt for ancient artifacts. Ever since she failed to live up to her fate and find the Book of Worlds, she's been shunned by those around her. Worse, she's slowly losing her mind as her subconscious keeps trying to accomplish her fated task. When she's presented with one last chance to find the Book of Worlds and thus save her sanity, she'll stop at nothing to accomplish her goal.
Ian MacKenzie has been in hell
For more than one hundred years, Ian has been locked in a nightmarish prison. An accomplished thief, he was thrown into hell for failing to maintain the secrecy of his magical race. When Fiona presents him with an opportunity for escape, he'll do anything it takes to ensure that it's permanent, even if it means betraying the woman he's grown to care for.
A dark force could tear them apart
As Fiona and Ian get closer to finding the book, they learn that there's more at stake than they ever imagined – like the fate of the world. When their task threatens to tear them apart, they'll have to make the ultimate decision: life, or love?
ARC Reviewed by Tammy:
I received a free ARC copy from NetGalley in exchange for a honest review.
This is book 4 in the series. The suggested reading order is Braving Fate, Soulceress, Rogue Soul then this one Stolen Fate. I am reading this as a standalone that is why my rating is a 4. You really need the other books so you are not fully lost.
Fiona is set on her task and is willing to do anything to complete it even stealing Ian out of jail. To get the Book of Worlds she cant let anything stop her.
There is more at stake then either of them was aware of and it makes matters worse.
They are fighting their attraction to each other but will the subcome to it?
When they go for the book they run into some major obsticles that they were not prepared for what will happen next?
Will Ian stay out of jail?
Will they finally be together?
Will they rescue the book?
What will happen next? Get the book and you will know it is worth it and so much fun.