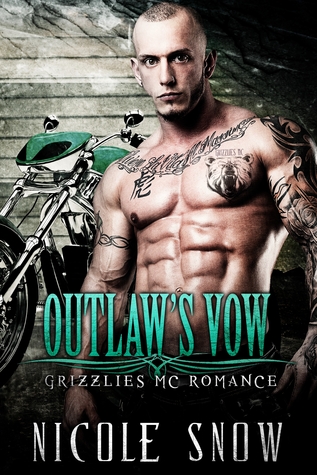 by Nicole Snow
TITLE: Outlaw's Vow
SERIES: Grizzlies MC
ARC Received From: Nicole Snow
# OF STARS 5
Genre: MC
Pages: 441
Overview:
I'M MARRYING AN OUTLAW AND I CAN'T FAKE IT…
ELLE JO
Forget the flowers and tender kisses. I'm marrying a man who took a bullet for me tomorrow, and I don't have a choice.
Did I say he's an outlaw? Asphalt has slayed more men on the road and taken more women between the sheets than I can ever count.
He's arrogant. Savage. So handsome and wild I should slap him for being this beautiful while he does every sin in the book. When he tells me I'm going to say I do, and mean it, I want to believe him.
Especially when he's the boy I left behind. All the insanity I tried to escape when I stopped being the sheltered club princess.
So, why the hell can't I keep my lips off his when he gives me that smirk and whispers filthy things in my ear?
ASPHALT
She thinks it's pretend, and club business is the only reason I'm slapping my brand on her skin. What a damned joke.
Elle got away from me years ago. Never again.
I'm putting her where she belongs the second I hear "kiss the bride." Yeah, I told my brothers I'd go along with this sham marriage to save the Grizzlies MC. They don't know how bad I need her.
This isn't pretend anymore. The good girl act won't save her this time. I'm keeping my bride.
I can't forget the kiss that turned me into an obsessed lunatic. I'll own her on my bike, in my bed, wreck her for any other man, or I'll be dead.
Elle's always been mine. Don't care how much I suffer 'til she learns that's law…
The Outlaw Love books are stand alone romance novels featuring unique lovers and happy endings. No cliffhangers! This is Asphalt and Elle Jo's story in the Grizzlies MC series.
Outlaw's Vow:
Elle Jo was born into the Grizzlies MC her father Gil is the President of the chapter where she grew up.
Asphalt aka Austin was the boy next door that she has always had a crush on.
Gil is trying to broker a deal with the Black Dragons and wants to use his daughter's knowledge of their language to help. He doesn't realize that he could be putting her in danger. The Head of the MC gets wind of what he is up to and sets up his daughter to get married. They don't realize its her old flame. Will things work out? Will they be able to save the Tacoma MC chapter? Will he be able to save her? What will happen next?
Blackjack's Secret:
We finally learn the truth about how BlackJack got the club clean and what he had to give up to do it? What will the club think when he brings his old lady home? About his kid? Will they all be accepting? What is next for the MC? 
I received an ARC version of this book in exchange for an honest review.