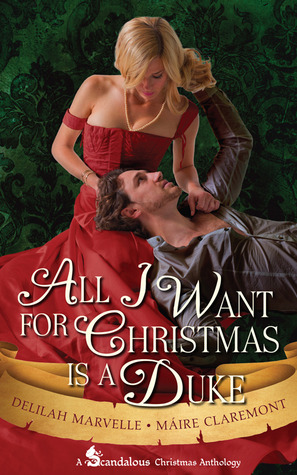 by Delilah Marvelle, Maire Claremont
TITLE: All I Want For Christmas is a Duke
ARC Received From: Tasty Book Tours
# OF STARS 4
Genre: HISTORICAL
Pages: 170
Overview:
Two ladies. Two dukes. One Christmas. And scandal galore.
A Christmas anthology by two hot names in historical romance fiction…
Merry Christmas, Mrs. Robinson by Delilah Marvelle
Lady Jane left her father, the Earl of Chadwick, and the ton behind to experience life on the stage. After a disastrous marriage, the widow is living on the edge of poverty, determined to guard her heart, when a secret admirer from her past demands a second chance.
Shy and retiring Martin Nicholas Pierce, the Sixth Duke of Somerset, has carried a torch for Lady Jane since her youth, but he is five years her junior. When she married another man, he left for Europe, determined to put her out of his mind. After returning to find Lady Jane free, he vows to replace the memories of her cursed Twelfth Night with a new beginning.
The Twelve Days of Seduction By Màire Claremont
Alexander Hunt, Eighth Duke of Berresford, is aware his ward's governess isn't quite what she seems. Although Miss Flint is beautiful and intelligent, she misrepresented herself to gain employment, and he threatens to give her the sack mere days before Christmas.
Desperate to convince the sexy duke not to tear her from the little girl she's grown to adore, Adriana challenges him to seduce her before the Twelve Days of Christmas have come to an end, although she fears it may cost her heart. Alexander accepts the challenge, unconcerned that he has as much to lose, if not more, than the delectable Miss Flint.
Merry Christmas, Mrs. Robinson by Delilah Marvelle
We meet Jane who is in Love with a Mister X but doesn't know who he really is. She meets a man who makes her think he is Mister X. They get married. When she learns the truth he dies suddenly. She turns her back on everything. Years later she meets up with an old friend. Will she finally learn the truth? Will she finally find her happily ever after?
The Twelve Days of Seduction By Màire Claremont
We meet a woman who is trying to make a better life for herself. She has done some great things trying to better her situation. But she has lied about who she really is. Will the Duke throw her out or let her stay? Can she still take care of the little girl she loves? Or will he make her break the little girls heart? What is in store for them? Can they find love?
I received an ARC version of this book in exchange for an honest review.