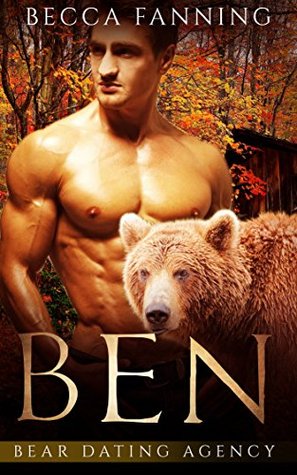 TITLE: Ben
SERIES: Bear Dating Agency #2
ARC Received From: Becca Fanning
# OF STARS 5
Genre: PARANORMAL
Pages: 125
Overview:
Special Launch Sale! $2.99 $0.99 for a limited time.
Layla Moss came out to the wilderness to get away from the everyday grind. A nice vacation away from all things involving the Women's section at her department store was just what the doctor ordered. She enjoyed her job, and sometimes she got to help bumbling clueless men as they tried to buy something for the lady in their lives. But when her best friend set her up on a blind date with someone else out here in the cabins, Layla was the one who felt clueless.
Ben Best has been called many things in his life. Very few of them were pleasant, but as a park ranger he knew what to expect. When you break up a party getting out of hand or bust someone for littering, they're going to throw some barbs at you. But he never expected to be called "Pantyhose Guy." Still, the pretty little lady had sass for days and there was something about that he found incredibly interesting…
But a dark cloud of danger was looming closer. Did their fragile young love have any chance?
This 11,000+ word novella has hot Bear Shifter Bachelor action, a Happily Ever After, no cheating and no cliffhangers! I've attached some free stories afterward as my thanks to you.
We meet Ben and Lena. Lena works in the clothing store where she meets Ben. Ben is trying to buy something for his grandmother. When he has to leave suddenly. She meets him again when she goes on vacation. Can they finally have a date? Will trouble follow her? What will happen next?
I received an ARC version of this book in exchange for an honest review.