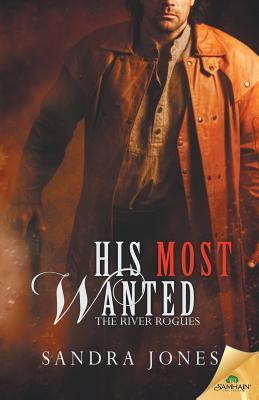 by Sandra Jones
TITLE: His Most Wanted
SERIES: The River Rogues #2
# OF STARS 3.5
Genre: Cowboy Romance
Pages: 210
Overview:
It'll take more than a badge to get her to confess her secrets. The River Rogues, Book 2 Kit Wainwright only meant to stop the thief making off with his beloved uncle's ashes. He wants to hang up his gun, become a law-abiding citizen and leave his violent past behind. But the mayor takes notice of his sharpshooting skills, slaps a badge on his chest and puts him in charge of cleaning up this lawless town. Starting with tracking down the notorious Velvet Grace. Bordello owner Cora Reilly never meant to become a crusader. But after shooting the last corrupt sheriff in self-defense, she's spent the last few months turning her hastily donned disguise into a local legend to defend the girls in her town from riff-raff. There's no way Cora can trust the handsome new sheriff. Yet Kit's kisses leave her wanting to open her arms-and her bedroom-to soothe his grief. Even if it brings him too close to the truth that could send her to the gallows. Warning: Contains a reluctant sheriff with a keen eye for a moving target, and a take-no-crap madam who isn't about to let him get close. Okay, maybe just a little bit closer. Just this once…
Reviewed by Lilly:
His most wanted was an interesting read for me. Different from the many books I've read and review. Here you have two individuals very strong willed. A man Kit turning his life around, he once owned a brothel. And she has a secret life that keeps women safe. But is she also the woman, the murdered he was hired to find. Enjoyed this read, I'll have to get ms Jones other books in this river rogue series.
I received an ARC version of this book in exchange for an honest review.